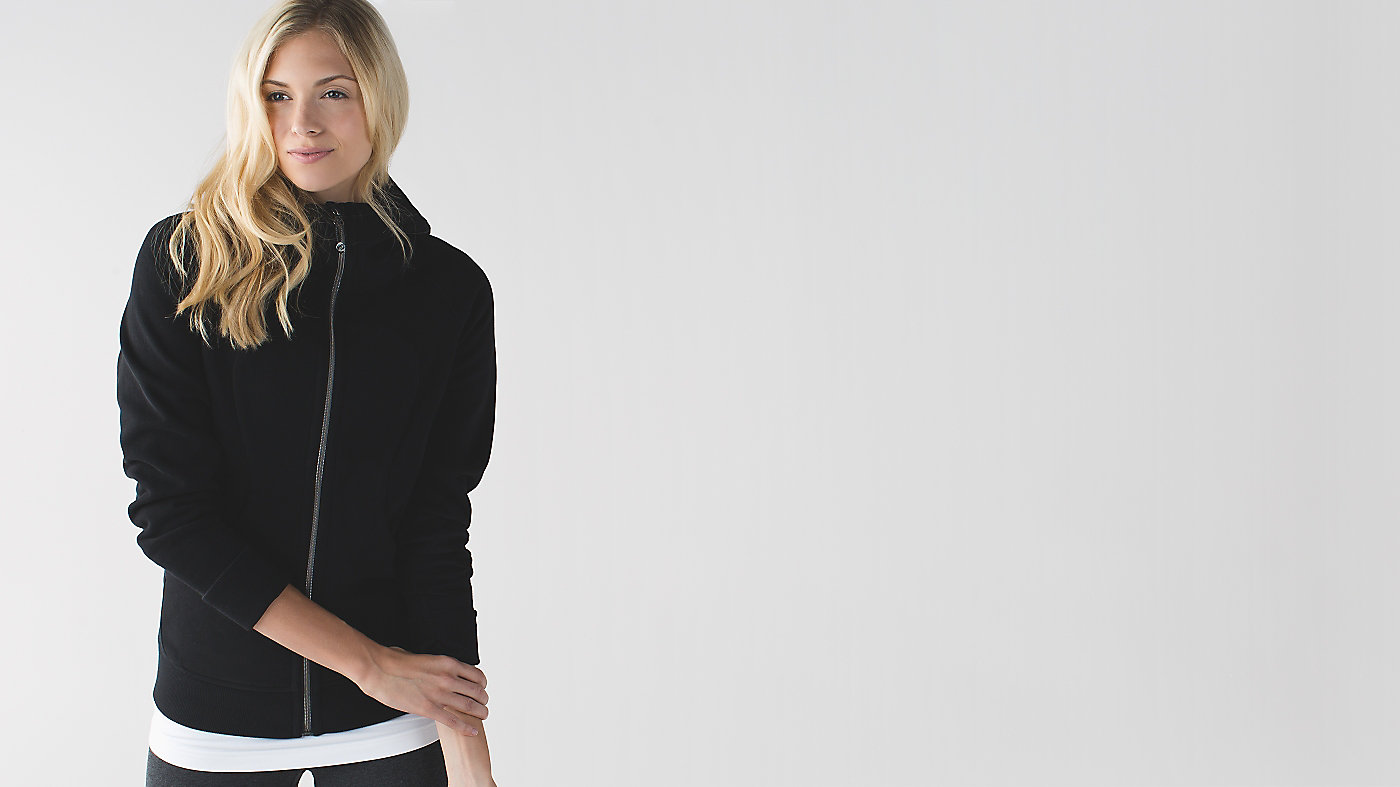 ---
warmth
Large hood keeps your post-sweat hair under wraps
---
emergency hair tie
Elastic zipper pull doubles as an emergency hair tie
---
thumbholes
Help keep your sleeves in place and hands warm
---
media pocket
Added cord exit for tangle-free headphones

Scuba Hoodie III *Fleece
is rated out of
5
by
10
.
Rated

1

out of

5
by
Daisy
from
Disappointed with this season's new hoodies
I've got so many Lululemon hoodies - am obsessed! However my 2 recent purchases have left me very disappointed. I purchased a Scuba Hoodie fleece IV in navy & the stitching has already come apart from the zip & fraying. I need this replaced. I LOVE the feel & fit of this hoodie & am super disappointed it's so new & faulty. I bought the Scuba Hoodie III in black fleece on the weekend & the fleece inside is not very snuggy. The fleece isn't very refined & feels cheap for the price & isn't soft like the Scuba Hoodie IV. .The jacket doesn't feel comfortable in sizing & the arms & torso feel too small. I learned to go up a size, as last year's fleece hoodies were too small in the arms & I had to give them away. I won't be buying the fleece versions anymore - 2 years in a row they haven't fitted in the arms. I bought 2 terry hoodies a few months ago & these are perfect & have been on high rotation. However my 2 new winter hoodies have been fails. Very sad as Lululemon is my go-to brand.
Date published: 2017-06-06
Rated

1

out of

5
by
kelz
from
So disappointing - save your money for next year - hopefully they will be back to the standard of quality they were in previous years
So so disappointed with this years scubas!! I have 3 scubas from different years including one from last year and the year before. Thick, warm and well wearing..... but not this year's model this year i am so disappointed with the quality of the fleece material and the fit. The material is in no way as thick and warm as last years or the year before and it has worn very quickly in comparison to my 4 year old scuba that, after many many washes, still nearly looks like new! i swear it is nearly half as thick as last years. I still purchased as the store assistant assured me that it was as warm as previous models!! the quality of Lululemon is going down hill, you only have to read the chat on different lulu groups to hear unhappy customers. Please return the quality that we are use to in your products. we pay a high price and expect the quality that we have had in the past. if i pay $129 for a hoodie i expect it to last way longer then the average $40-$60 !! wont be buying another scuba for awhile until the old quality returns and certainly will not be recommending this years scuba to others!
Date published: 2017-05-19
Rated

3

out of

5
by
LuluAlie
from
Amazing look but unfortunately not the quality I was hoping for
I bought this hoodie after dreaming of it for few months! I am have been loving Lululemon for over 10 years now, and have always told everyone how it is such good investment because in 4 years time (more sometimes!) you will still be asked 'oh you bought a new shirt!' :It will still fit perfectly and look new. When I tried on the Scooba Hoodie I was expecting the same story, but unfortunately it was far from it. The look of it is great, but I don't think I will be able to wear it beyond this season as it is already looking worn (specifically under the arm, where you can already start see through it!). I am hoping that this is not the new norm for Lululemon :( Overall, if you're looking for an amazing looking and comfy hoodie and you can afford to get a new one every few month, jump on this one. If you're hoping to have a long-lasting item of clothing, perhaps that will not be the one...
Date published: 2016-10-10
Rated

2

out of

5
by
Tami
from
LOVE the design but the arms are EXTREMELY tight
I was beyond excited to purchase my first Scuba Hoodie! I chose the III Fleece version as I assumed it would be ultra comfortable and flexible (I'm all about the comfort!) The design is amazing and I love the oversized hoodie, but unfortunately the arms and waistband are ridiculously tight. I opted for an 8 (I'm usually a 6 but always go up a size with jackets for additional layering functionality). I actually have quite small arms so this was incredibly surprising. The jacket in general felt quite stiff overall - the way jeans usually feel when you first wash them - and there was zero chance of being able to wear anything under it aside from a singlet. Yet there was LOADS of room in the stomach area. Because the body is longer and the general style of the jacket is quite bulky, it also bunched and pulled up at the front as you move or sit (keeping in mind I only had this on for 5-10 mins). As mentioned, I was really excited about this jacket because the design is amazing, however sadly it just wasn't the right fit for me...literally! I'll be heading in to the city this weekend to swap it over in person so there's no need to offer refunds etc - but I'd love some recommendations on jackets and pants designed for comfort! Ironically enough I can't do a lot of fitness due to a bad back, but because I work from home, I'm looking for ultra comfy pieces suitable for every day wear...and Lululemon takes the cake when it comes to quality and service! Hopefully you find this review is helpful :) -Tami
Date published: 2016-09-20
Rated

4

out of

5
by
leonaV
from
Compared it with my scuba 2. Give it 3.8 stars
Saw so many mixed reviews on this jacket. Well, I wanted another scuba hoodie. I bought two last year and wanted more, as they were so warm and so beautifully made. Despite all the negative reviews, I decided to check it out anyway. I was especially curious to compare it with my scuba 2 hoodies. I tried it on in the shop. It looked not as fitted, but felt very comfortable on. Brought home the one in heathered space dyed Gris (Such a nice colour!) Then compared with my scuba 2. Here are some of the differences: Fit (bought my usual scuba size 6. I'm normally a 4 in most lulu items): scuba2- fitted cut, scuba3 - straight cut (feels and looks more relaxed on, doesn't emphasise the waist, bunches up in the stomach area). I liked that the 3 was longer and was easier to move in. Front of the jumper ( Lulu logo shape that frames the front): scuba2-two layers of fleece fabric, scuba3- fleece in front and thin lining on the reverse side (maybe that's why it doesn't feel as warm) Ribbed fabric panels on the sides: s2-double layered, s3- single layer (maybe that's why stretches out easily, and isn't as warm) Hood: 2 - fits nicely around the head, double layer cotton fleece, nice logo embroidery; 3- looks like a helmet when you have it on, thin fabric lining on the inside, logo embroidery is less prominent, which is ok, but somehow just feels cheap in comparing with the other one. The sleeves in both are barely long enough for my long arms if I want to use the thumb holes. Dear lulu please don't make them any shorter! Cotton fleece fabric: visibly thinner on the scuba 3 (I put two sleeves together to compare). Scuba 2 feels more solid, that's for sure. I will keep my one in pretty blue-ish-grey Gris colour. Really love this colour! Would definitely repurchase this hoodie in other colours if double fleece fabric in front comes back, as well as the double layer ribbed fabric on the sides. Don't mind the hood being lighter, but would like to see the old shape back thought. P.S.Fingers crossed this new cotton fleece washes as well as the old one. Will be very dissaponted if on top of other shortcuts it doesn't wash well either.
Date published: 2016-07-02
Rated

5

out of

5
by
StaceTMB
from
What a cosy hoodie!
Wow this hoodie is amazing! So cosy and comfortable. I love the long sleeves that come over the hands. The high neck and hoodie keep you so warm and comfortable. Love the pattern too!
Date published: 2016-06-29
Rated

5

out of

5
by
JosieFastKat
from
My 1st Scuba: so far, so GOOD
My first scuba. Never liked Scuba I and II because the material was so stiff/bulky. You could put it on the floor and it'd stand up on its own! Tried on a 4 in-store...way too tiny (even though I've always been a 4 in tops (except tanks). Saw this one in WMTM, read all the reviews, and went for a 6 in hero/blue. It's a perfect fit for me and I'm a happy camper. Am 28" bust/A Cup, 64cm waist, 84cm hips. Weight 47kg, height 170cm (about 5.7"). Several reviews complain about 'tight arms', and 'tight in underarm'. I can see how this can be a problem for some, but for me, the underarm space and arm space is just right because I have slender/longish arms and shoulders. The overall fit on me is slim not bulky, arms are spacious enough not 'skin tight'. The hood is more relaxed than earlier models which stood stiff on the neck like a 2nd head. The Lulu logo is too large in my view but on this hero/blue patterned color the stitching is dark blue so it hardly shows. Complaint: don't like the turquoise blue lining which, when the zipper is part open, really detracts from the hero blue color/pattern around the neck. Indigo blue lining would've looked more classy. It's a small complaint. Haven't washed it yet, will wait to see if, as others have mentioned, pilling will reveal its ugly head, and dark patterned Luon will fade. Finally, Sz6 seems to be the new 4! Have always worn 4 in tops (2 in all bottoms) but lately 4 in tops feels and looks like a 2. Lesson: always try in-store before buying online.
Date published: 2016-06-08
Rated

3

out of

5
by
RachelG
from
Make Sure You Try Before You Buy!
I was given the Scuba Hoodie fleece from a beautiful friend as a house-warming gift. She knew my size because i have the amazing black one with gold zip from last year that i searched high and low for! This season's fleece scuba's are a lot tighter around the stitching specifically - there's no give under the arms and the band around the waist. I tried to wear it a few times and it just hasn't given (good quality i guess guys!) and then I took it into the store to try on the size 6 but it was swimming everywhere else :( I absolutely love the scubas - they're stylish, warm and can be dressed up or down but i'm really disappointed the sizing has changed, lululemon! Hopefully you can take this as feedback for next year and i will count my blessings for my black one last season.
Date published: 2016-06-08
Rated

2

out of

5
by
fitmum
from
Just not what they use to be!
It has been six years since I purchased my first scuba hoodies, my first Lululemon items. I was instantly in love and hooked. The quality at the time encouraged me to look into more of their gear and subsequently become quite the regular purchaser. This winter I wanted to add a scuba to my wardrobe, the two originals I have are still going strong and worn regularly, but I wanted a new colour. I am a size 4, slight and fit. I purchased the Scuba Hoodie III Fleece some four weeks ago. I ordered the 4, as I do with everything else, however the 'slim' fit was far from it, very baggy, loose and ballooned out around my chest and shoulders. I exchanged for a size 2 to get the slim fit that I desired and to be the same as my original flagship scubas. I have been wearing the 2 for three weeks now and find the 'thick fleece' to be not thick and warm, not like my oldies but goodies. I am quite disappointed and confused as to why the original flagship item needs to be altered and changed. Lulu has so many hoodie options to suit particular needs, why change one of their best items to be loose and thin? I myself prefer warm, strong and fitted. I wear my lulu gear proudly and daily however, I can't wear my new hoodie in winter as it just isn't warm enough. Bring back the original scuba, the flagship, the one the Lululemon brand was built on.
Date published: 2016-05-23
Rated

5

out of

5
by
Sporty
from
cosy & warm
I was after a jacket to keep me warm while working in an air conditioned gym. I found just the one! Loving my Scuba Hoodie, nice slim fit and keeps me very warm.
Date published: 2016-04-20