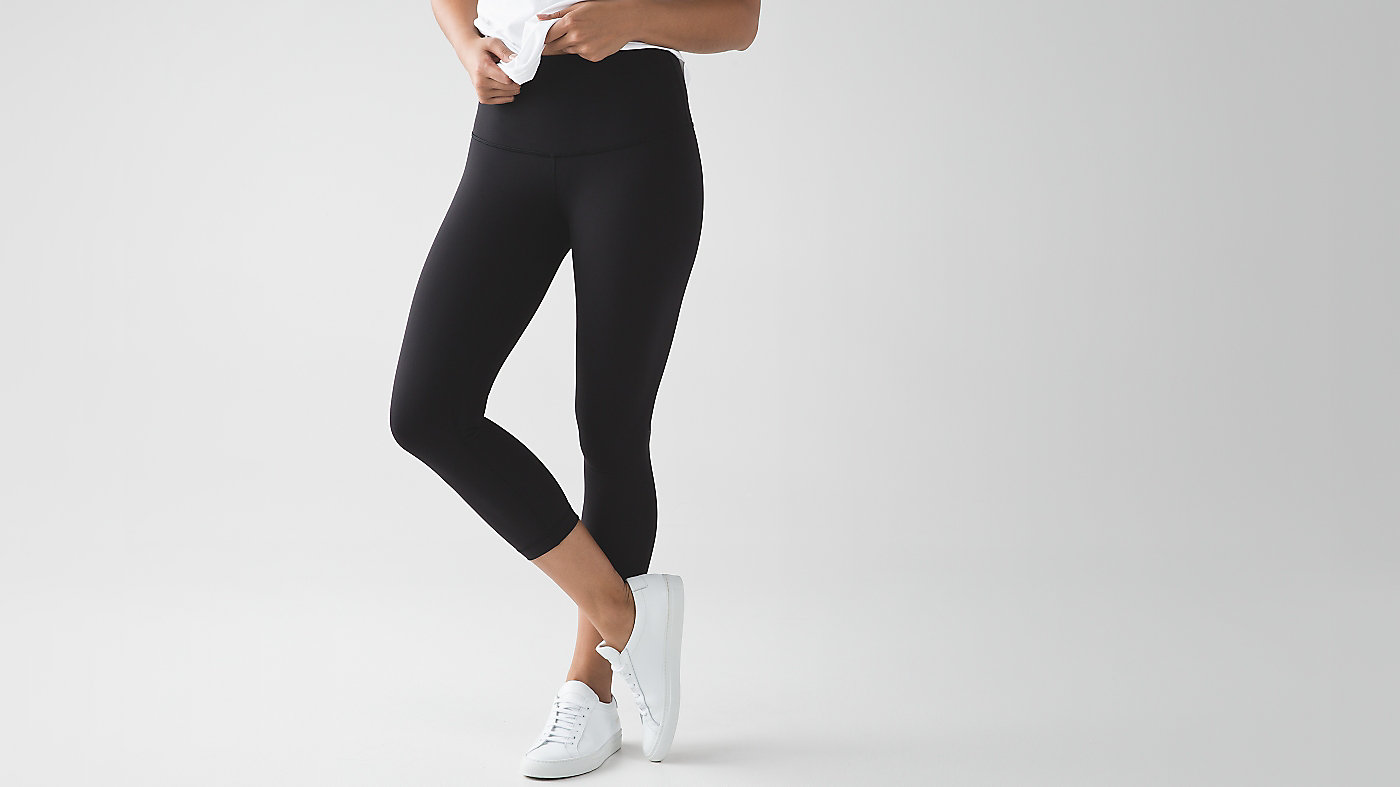 ---
hidden pocket
Stash your essentials in the hidden waistband pocket
---
high-rise
Keeps you feeling covered and secure
---
hugged sensation
Engineered to feel like a comfortable embrace throughout—it holds you close and moves with you
---

Wunder Under Crop Hi-Rise
is rated out of
5
by
11
.
Rated

5

out of

5
by
Peejays
from
Great for pregnancy
I am 16 weeks pregnant and have been wearing these pants as my yoga/pilates/barre/walking maternity clothes solution. I really love them and will probably purchase another pair. They provide me with the right balance of support and comfort.
Date published: 2016-11-24
Rated

2

out of

5
by
Monika
from
Poor quality for price point
I fell in love with lululemon recently, switching from another major brand. Those pants are one of my recent buys - I love the shape, it's very flattering and very comfortable. BUT I have worn these pants three times for a walk and the fabric is already piling! I would expect that the quite high price of these pants would at least buy me quality and durability, those pants haven't even been washed once and around the waist they're already piling like an old sweater... This is already my second item from lululemon that I'm disappointed with. :( I love the style of the clothes, but prices vs quality are unacceptable.
Date published: 2016-11-04
Rated

5

out of

5
by
Littleone
from
Love love love
I love these leggings I've washed and worn them 1000 times and they still fit great You can get all sweaty in winter and not feel hot and gross They hold everything in place
Date published: 2016-09-06
Rated

5

out of

5
by
beckd
from
life changing tights
Cant get enough of these tights they are just amazing!!. I wear them doing all kinds of different gym workouts. Especially great being high rise, gives me that more sucked in feeling encouraging me to keep my abs activated all the time. I do find they start to rub between my thighs, but being curvy that is always expected.
Date published: 2016-08-18
Rated

5

out of

5
by
Picksie
from
Wunder Under Crop Hi Rise
Love these pants bought two pairs in different colours. As a Yoga, Pilates and Barre teacher these are so compfy and being so short the length is great for me too. I love the hi rise just giving that extra support around the waist.
Date published: 2016-06-03
Rated

5

out of

5
by
Tixie
from
Fabulous yoga pants
These are the best you pants that I have every owned, so comfortable, so soft. I teach yoga and do a home practice most days, so I spend a lot of time on a yoga mat, these pants move with me, I don't need to adjust them even after inversions, they feel amazing.
Date published: 2016-05-19
Rated

5

out of

5
by
Panda
from
Fantastic - depending on the fabric
I tried these on in store in the aqua stripey colour and they were amazing, but I worried they were too bright and liked the grey stripes more. I ended up rushing and just bought the grey version without trying them on first - which was a mistake! They are a different type of fabric with not nearly as much stretch, and get very hot and sweaty feeling on the inside. I also felt my movement was restricted in them.. I took them back and ended up with the aqua which are AWESOME! This colour is made of luxtreme fabric, and they are so so comfy and flattering. I am between 2-4 at the moment and while the 4 was really tight in the grey, the 2 is perfect in aqua.
Date published: 2015-12-11
Rated

2

out of

5
by
Poochie74
from
Not my fav
I have several pants, and wanted these so much, so my husband bought them for me, perfect size, but after just a few session, and a few washes on a normal, they have actually shrunk in size. No, I haven't put on weight, all my other Lululemon pants are amazing, but these have now become unwearable. Just be aware ☹️
Date published: 2015-12-06
Rated

5

out of

5
by
JandR
from
Feel great
Feel great and look great. Definitely a must.
Date published: 2015-11-09
Rated

5

out of

5
by
C25PP
from
Pick your pattern!
I purchased the space dye twist cosmic teal multi WUC online and LOVED it - very flattering on the rear! But it had a large mark on one leg when I got it, so sent back for another - the second pair was very UNflattering on the rear - the dark stripe was just in the wrong spot! Ended up going into a store and trying on every pair they had (4) to choose one that looked almost as good as the first... but once the pattern is right, these are very comfy, flattering, easy-wear crops, I will use them all through summer with tanks and flats!
Date published: 2015-11-05