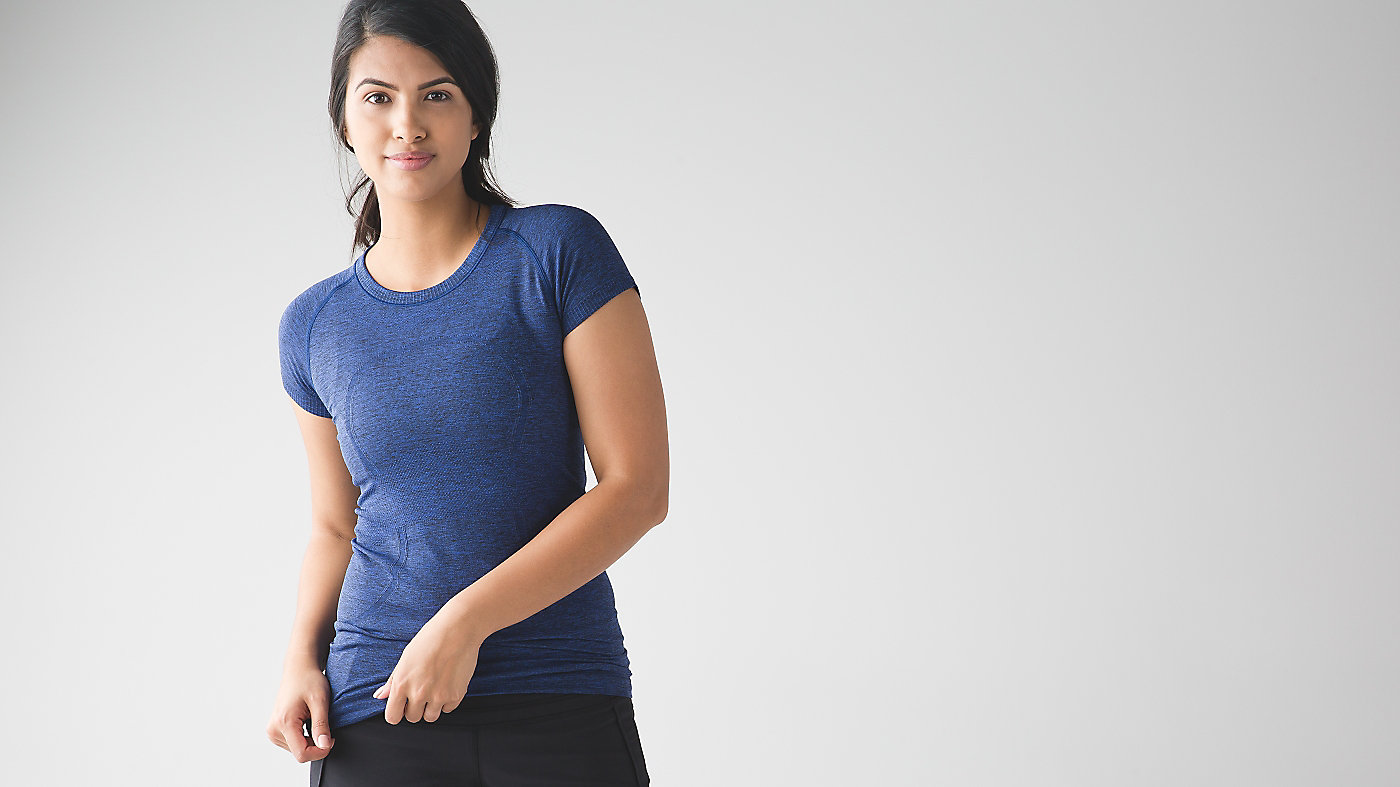 ---
No chafe
Seamless construction in the body minimizes chafing
---
SILVERESCENT® TECHNOLOGY
Powered by X-STATIC®, it inhibits the growth of odour-causing bacteria on the sweatband
---
fit
Body Skimming, hip length
---
BREATHABILITY
Strategically placed Mesh fabric provides ventilation
Swiftly Tech Short Sleeve *Crew
is rated out of
5
by
19
.
Rated

2

out of

5
by
RunLiftLaugh
from
Sadly I smell
I've been a long time lover of the Lulu bottoms range and thought I'd branch out to the tops also. I purchased the swiftly short sleeve t-shirt just over 18 months ago, about 12 months later I noticed that I would smell after wearing it for a couple of hours and now as soon as it warms with body heat it reeks. I've unfortunately since bought another and just save it for 'special occasions!' I'm really disappointed as I've only ever washed as per instructions, the shape holds well, but the anti-stink was the reason I tried these shirts.
Date published: 2017-05-12
Rated

5

out of

5
by
Hele
from
Great run swiftly short sleeved tops
These tops are amazing. They are so soft and light and great to move in. I have five and the only problem I have had is that the light blue one stretched quite a lot soon after purchase. The others have worn and laundered remarkably well and kept their shape.
Date published: 2016-12-14
Rated

4

out of

5
by
Gingerninja
from
Feels great to move in
Feel awesome to move in. But the Grey does show the sweat a lot and I don't even sweat much- so was a bit embarassing as the instructor/ Pilates teacher with sweat marks. I love this longer top layered in winter under the precision jacket in black and black pants. looks professional with a contrast
Date published: 2016-09-09
Rated

5

out of

5
by
JaneParker
from
super comfy top
Very attractive and comfortable top, I wear it for the gym or casual, but it is a bit delicate so just have to be a bit careful with it. The antistink and quick drying is fantastic! Lululemon please bring it out in the heathered jeweled magenta again and the bleached coral. Would love to buy those colours
Date published: 2016-07-21
Rated

2

out of

5
by
Nila
from
Great fit but not great quality
I love the fit of this top however only after few wears it started to pile. I have always washed it is a garment bag and have looked after it very well. After paying $75 you'd expect it would last for a while. I am really dissapointed Lulu. You pay good money and expect good quality
Date published: 2016-07-14
Rated

3

out of

5
by
Rose
from
Great Shape and fit if only it lasted ..
Great initial shape and length - however the material lost its shape and stretch after a few washes and now is too big and doesn't cling to the body as it did when i first tried it on. The sales assistants assured me that is was pre washed and so wouldn't shrink so i got the more comfortable fit however am really regretting this now. If you want it to fit snuggly prob size down for this top.
Date published: 2016-06-06
Rated

5

out of

5
by
melburnian
from
Great running shirt
Love this top for running, stays put, keeps me dry and looks great. I was initially skeptical of the silverescent anti stink stuff but it really works! I can get away with washing it once a week or so. Great for travel.
Date published: 2016-06-05
Rated

4

out of

5
by
Fols63
from
Awesome Running Top
Love these shirts. They are awesome to run in but do ride up a little. This is forgiven by the comfort of the shirt. Sweat wicking and love the longer length as well. Did buy up one size for comfort so maybe this is why it rides up a little. Recommend pair with the pace rival crops.
Date published: 2016-05-19
Rated

5

out of

5
by
Dee03
from
A Top Never Rests
If not worn, this top is always kept in my cycling pannier when riding daily in Melbourne's unpredictablie weather. It's great for wearing under jackets or on its own on sunny afternoons. Wears well. Washes well. Breathes well. Doesn't cause any discomfort whilst riding. I wear it nearly everyday during the week and for me, it doesn't stink by Friday. I'm very likely to get another one, in another colour, very soon.
Date published: 2016-04-15
Rated

5

out of

5
by
gator
from
favourite running shirt
This shirt is excellent for running - light and sweat wicking, but with good coverage (helpful in the Queensland sun!) I have worn it running in temperatures up to 30C - occasionally it feels too hot and I'd prefer a tank top, but it performs better than any other t-shirt I have tried. In colder climates I can also layer it under something else and it keeps me nicely warm. Some of the other reviews report issues, mostly that it rides up and/or it snags. I find my short sleeve swiftlies ride up a bit when running, but not too much - it typically sits just above my shorts. (The swiftly racerback is worse in this regard!) I wash all my swiftlies in garment bags to protect them. All up I have about 7 swiftlies across the different variants (short sleeve, long sleeve, racerback) and I think one of them has one snag. Aside from taking care when washing, I'm not an overly careful person. Overall a great shirt, and versatile in that you can wear it running in a range of temperatures. Currently there are a lot of colours but many of them are drab, look like highlighters, or are ruined by hideous patterns. I would love a short sleeve in the pretty caspian blue colour, which is available in the racerback style.
Date published: 2016-03-18